Benchmark Zero
Utilizing our VAO platform, we are able to bring data, existing within the organization, to life and to make sense out of it. This initial level of awareness is what we call Benchmark Zero. Consequently, this initial snap shot will be the benchmark against which the results of future improvements will be compared.
Market Realties
Regulatory, competitive, demographic and technological changes and advances are all variables that shape our understanding of the current situation, as well as their impact in the near and mid-term future.
1- Improvement Space
Identification of the areas and opportunities for improvement, taking into account the current patient-mix with the organization and the optimal mix that ought to be reached.
2- Priorities, Capabilities & Resources
While many courses of improvements may be possible, current internal and external realities and available budgets require us to prioritize those activities that render the highest impact in terms of performance.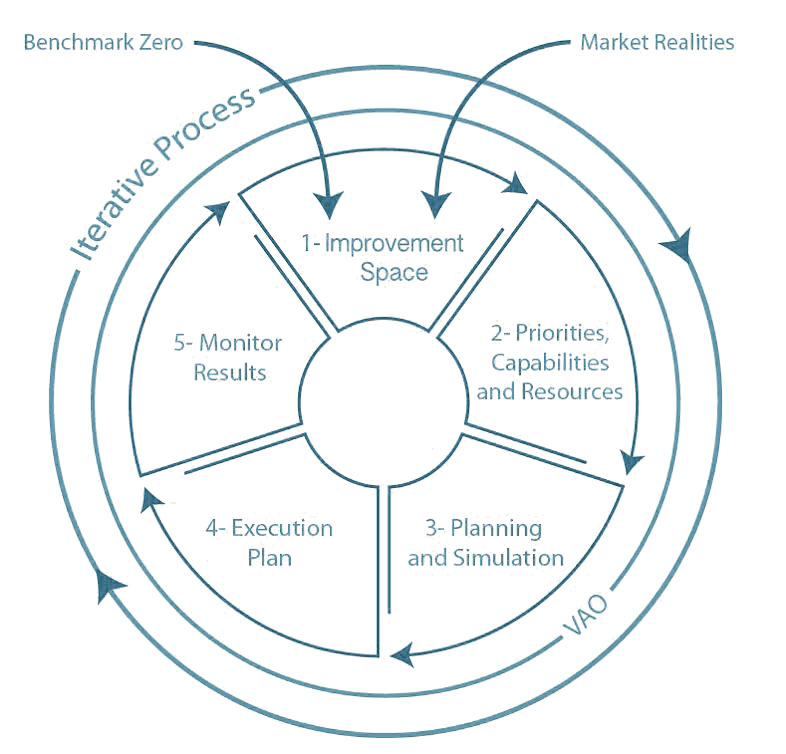 3- Planning & Simulation
This is where we get to put what we have come to understand into action, draw plans and processes, identify the required resources, scheduling, and detailed budgets per task, and simulate the impact of each of the alternative plans before deciding on the improvement path.
4- Execution Plan
This is where approved improvement plans are incorporated into the strategy and detailed into the annual budget, therefore tracking internal performance, analyzing variances, adjusting forecasts and setting plans.
5- Monitor Results
In its basic form, this is to be thought of as magnitude of departure from the "Benchmark Zero" and the attribution to those improvements that were the driving force behind the success. In addition to the leanings resulting from those activities that were not as successful.
Iterative Process
Results dictate a new level of awareness and new improvement opportunities. This circular process ensures continuous improvement with "surgical precision" budgeting.